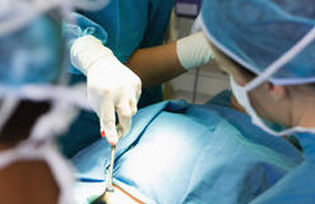 Surgery
Operative procedures done at Meera Hospital:
Normal Delivery, Ventuse Delivery, Painless Delivery, Forceps Delivery
L.S.C.S.
Tubectomy
Total Abdominal Hysterectomy
Vaginal Hysterectomy
Laprotomy
Cholecystectomy
Appendicectomy
Cervical Tightening
Hernia Repair
Other Surgical Procedures done at Meera Hospital are:
Anal Abscess (G.A.)
Anal Wiring
Appendectomy
Biopsy (G.A.)
Bladder Stone
Breast Abscess
Breast Lump
CBD Exploration
Cervical L.N. Excision / Biopsy
Circumcision
Complete Perineal Repair
Cystoscopy
Cysts (GA)
Caesarean section with Hysterectomy
D & C Hysteroscopy Diagnostic Lap.
D&C Under G.A.
D&C with Biopsy
Diagnostic Lap. D & C
D.C.R.
Diagnostic Laparoscopy for Infertility
Diagnostic Laparoscopy- Ovarian Drilling
DJ stent Semojal
DJ Stenting Excision of Fissure
Excision of Fistula
Exploratory Laparotomy
Extraction of Bartholin Cyst
Ectopic Pregnancy
Femoral HerniaHematoma
Hemicolectomy
Hydrocele
Hysterotomy
I.P.V.
Incision & Drainage (G.A.)
Incisional Hernia Repair
Inguinal Hernia Repair
Intestinal Resection
Kidney Stone & Uretheric Stone
L.A.V.H. (Laparoscopically Assisted Vaginal Hysterectomy)
Laparoscopic & Ectopic with T.T.
Laparoscopic Appendicetomy
Laparoscopic Cholecystectomy
Laparoscopic Ectopic
Laparoscopic Inguinal Hernia Repair
Laparoscopic Ovarian Cystectomy
Laparotomy
M.T.P.
M.T.P. with Tubectomy
MTP,  Laparoscopic T.T.
Nephrectomy
Ovarian Cyst
O. S. Tightening, Cervical Tightening
Piles (Parthe's)
Piles Cryo
Prostetectomy TUR
Radical Mastectomy
Resuturing
Splenectomy
Suturing (GA)
Thyroidectomy
Tuboplasty (Reconalisation)
TUR-B
Umbilical & Paraumbilical Hernia
Ureteric Stone
Urethral Dilatation (G.A.)
Vaginal Hystertomy & Fothergills
Vesicular Mole
M.B.B.S. – 1994
M.S. (Surgery) – 1997
Escort Heart Institutes & Research Centre, New Delhi from 1997 to 1999
M.A.M.C., New Delhi from 1999 to 2002
R. M. C. Registration Number 15643 (MBBS), MS General Surgery 4518
Consultant: Imperial Hospital, Jaipur from 2003 to 2012
Consultant: Meera Hospital, Jaipur since 2012 to till date.
Opening Hours