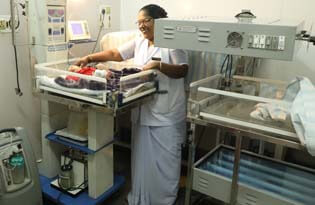 Paediatrics
A Medical graduate from Jiwaji University, Gwalior and a Post Graduate in Pediatrics from Delhi University.
Worked as a Pediatrician in Army Medical Corp.
After 26 years of service, voluntarily retired from service of Army and settled down in Private Medical sector at Jaipur in December 2007.
Nursery (Neonatal Intensive Care Unit)
The Premature, Septicaemic and really ill newborns are kept in the Nursery which is well equipped with – Incubators, Radiant Warmers
Photo therapy Units
Resuscitation Equipments
Oxygen, Suction machine etc.
The neonates are looked after by Child Specialist (Paediatrician) & trained nursing staff touch.
All vaccines like B.C.G., Polio, Measles etc are administered  by Paediatrician on regular basis
Phototherapy involves exposure of the skin of the jaundiced baby to visible blue light of wavelength 400 – 520 nm generated by artificial light sources. It is used to prevent and treat hyperbilirubinemia that is caused by hemolysis, ineffective clearance of bilirubin, or both and dramatically reduces the need for exchange transfusion.
Opening Hours