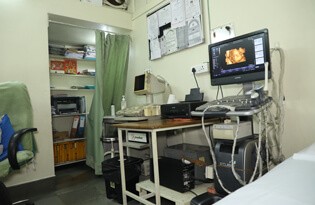 Sonography Radiology
Dr Rajesh Agarwal : MBBS (Sonologist)
Alumini of SMS Medical College, Jaipur.PCPNDT/CBT verifiedSonologist, associated with us since last 33 years. He is expert in all types of sonography/ultrasound. He is conducting fetal echocardiography, anomaly scans, level II/ color Doppler/3D and 4D scans. Also doing small parts, abdominal and peripheral vascular ultrasound scans.
Sonography has been used in a variety of clinical settings, including obstetrics and gynecology, cardiology and cancer detection. The main advantage of Sonography is that certain structures can be observed without using radiation. Sonography can also be done much faster than X-rays or other radiographic techniques.
X-Ray Machine is special kind of camera that takes a picture of things inside your body. This picture usually shows your bones and shadow of organs. Having the X-ray picture taken does not hurt at all and helps in proper diagnosis of various ailments.
List of X-ray done in Meera Hospital
X-Ray Foot
X-Ray Abdomen
X-Ray Cervical Ap-lated
X-Ray Chest Ap
X-Ray Chest Pa
X-Ray Elbow
X-Ray Foot Ap & Lt
X-Ray Hand
X-Ray Hip Joint Ap & lat
X-Ray Knee Left
X-Ray Kub
X-Ray Ls Spine Ap & lat
X-Ray Neck
X-Ray Pelvis Ap
X-Ray Pelvis Ap & Lat.
X-Ray Wrist
X-Ray Hsg
Opening Hours