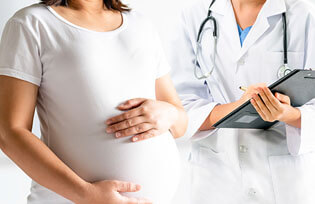 Obstetrics & Gynaecology
Obstetrics is the field of study concentrated on pregnancy, childbirth and the postpartum period
Gynaecology is the area of medicine that involves the treatment of women's diseases, especially those of the reproductive organs. It is often paired with the field of obstetrics, forming the combined area of obstetrics and gynecology (OB-GYN). (Wiki)
Some Examples of conditions dealt with by a gynaecologist are:
Cancer and pre-cancerous diseases of the reproductive organs including ovaries, fallopian tubes, uterus, cervix, vagina, and vulva
Incontinence of urine
Amenorrhoea (absent menstrual periods)
Dysmenorrhoea (painful menstrual periods)
Infertility
Menorrhagia (heavy menstrual periods); a common indication for hysterectomy
Prolapse of pelvic organs
Infections of the vagina (vaginitis), cervix and uterus (including fungal, bacterial, viral, and protozoal)
UTI and Pelvic Inflammatory Disease
Polycystic ovary syndrome
Premenstrual Syndrome
Post-menopausal Osteoporosis
Other vaginal diseases
Some of the more common operations that gynaecologists perform include:
Dilation and curettage (removal of the uterine contents for various reasons, including completing a partial miscarriage and diagnostic sampling for dysfunctional uterine bleeding refractive to medical therapy)
Hysterectomy (removal of the uterus)
Oophorectomy (removal of the ovaries)
Tubal ligation (a type of permanent sterilization)
Hysteroscopy (inspection of the uterine cavity)
Diagnostic laparoscopy – used to diagnose and treat sources of pelvic and abdominal pain. Laparoscopy is the only way to accurately diagnose pelvic/abdominal endometriosis.
Exploratory laparotomy – may be used to investigate the level of progression of benign or malignant disease, or to assess and repair damage to the pelvic organs.
Various surgical treatments for urinary incontinence, including cystoscopy and sub-urethral slings.
Surgical treatment of pelvic organ prolapse, including correction of cystocele and rectocele.
Cervical Excision Procedures (including cryosurgery) – removal of the surface of the cervix containing pre-cancerous cells which have been previously identified on Pap smear.
Other facilities in OBG dept.
2. Family Welfare & Planning
Regular guidance and free consultation is given for family planning. Tubectomy& Vasectomy operations are done.
Free distribution of various family planning devices and Copper-T insertion is done by us.
3. Ante-Natal Check-up Scheme PACKAGE
Any number of visits as considered necessary by the Consultant Doctor) in O.P.D. timings, after 3rd month of pregnancy till the delivery. This check up includes examination of Blood, Urine and Tetvac injections.
4. Coloposcopy
For early diagnosis cancers of Cervix & Vagina in Females with increasing awareness and prevalence of gynaecological cancers. Colposcopy along with paps smear is one of the necessary measures needed to be used in menopausal ladies.
Wife of: Mr. Satya Narayana Patodiya
Date of Birth: 14 September 1948
Date of Marriage: 17 May 1974
Address: B-13, Shiv Marg, Bani Park, Jaipur – 16
Tel-phones: +91-141-2202220, 2202748, 2204312

Mobile: +91-9672711117
Qualifications: M.B.B.S. (1974), M.A.G.S., (USA) ND DHM (Kolkata)
Regn. No: 5645 Rajasthan Medical Council, Jaipur
Medical Experience : Ex-Medical Officer (1975-78) Indian Red Cross Society, Jaipur
Managing Director : Meera Hospital, (Meera Nursing Home & Research Centre) Kartavya, Shiv Marg, Bani Park, Jaipur – 302 016
Life Member :FOGSI (Federation of Gynae. & Obs. Society of India, Mumbai)
IMA (Indian Medical Association)
JMA (Jaipur Medical Association)
MPS (Medical Practitioner Society)
Private Hospitals & Nursing Homes Society
Member: American Geriatric Society, USA
Associate Member :Institute of Marketing & Management, New Delhi
Ex. Secretary :Rajasthan Swasthya Yoga Parishad, Jaipur
Ex. President :Rajasthan Swasthya Yoga Parishad, Jaipur
Ex-Executive Member :Balram Ashram, Nai ka Nath,near Banskho. Distt. Dausa.
Principal Trustee :Meera Charitable Trust Fund, Jaipur
Philanthropic Guide :Jan Kalyan Kendra, Jaipur
Hobbies :Games, Sports, Badminton, Table Tennis, Reading, Music, Dancing
Under the supervision of highly experienced Dr. Meera Patodiya a team of Doctors provide 24 hours Gynaecology & Obsteric services— A.N.C., management of normal & high risk pregnancies.
Expert in Painless Delivery
Life Member : FOGSI MPS (Jaipur) JMA, Indian Menopause Society
Training: Laparoscopy From AIIMS, New Delhi (2008)
Running ISCCP Recognized Colposcopy Training Centre
Gen. Secretary - ISCCP
Vice President - Narchi Rajasthan State Branch
Gen. Secretary - Narchi Rajasthan State Branch (2020-2022)
Yuva Secretary - Jaipur Obstetrics & Gynaecology Society, Jaipur from 2013-2015
Member of organizing committee of AICOG 2009
Member of Organising Committee of AICCP February 2011
Special interest in Colposcopy and High Risk Pregnancy.
Joint Secretary - State Chapter AGOI, Narchi Rajasthan State Branch (2018-20)
Presented papers in various conferences and CMEs
Co-author of book on— "To Prevent Female Foeticide, know M.T.P. Act, P.C. & P.N.D.T. Act and M.C.I. Regulations"
Opening Hours