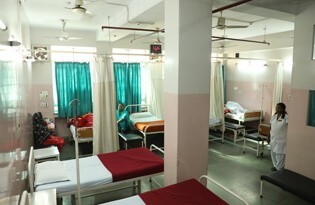 Our Infrastructure
Meera Hospital Full View of Building
Female (Mahila) Ward is on the Ground Floor and closely connected with the Ante-natal Room & Labour Room.
It is very spacious (8 bedded) and properly ventilated/airy. Any foul smell, like in the general hospitals, never comes in our Hospital.
Surgical Ward is next to the Operation Theatre Complex so that operative patients are attended properly.
Opening Hours